We have found that our 1/4 scale Lothar von Richthofen can do an admirable impersonation of Allied pilots! I believe I have painted up over 5 different versions of Lothar in Allied gear. Hopefully he won't get caught behind the lines dressed that way... I understand the penalties are quite steep! LOL.
Peyre Pringle of South Carolina wanted to know if I could paint up Lothar to resemble WW1 ace Douglas Campbell. I was pretty confident I could because I have found one can do a lot with paint!
As you can see, I was able to get Lothar pretty close! Peyre was wanting a post flight version with things smudged up a bit from castor oil.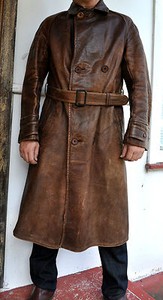 Peyre even sent me a photo of the color of the leather he wanted the jacket to resemble. Leather is one thing I know how to paint! I think we definitely nailed that one! Ha.
Peyre couldn't have been happier and kindly wrote:
Lyle,Lt. Campbell just arrived. I can't believe it, but he looks even better in person. You have amazing talent.  That has to be the most realistic looking pilot EVER!  His expression, complexion, the coat...all just absolutely "spot on" (as they say across the pond) as to what my image of a WW I pilot and outfit should look like.  I could "think it," but I sure couldn't do it.  It is like you have a direct connection to the image in my brain. You really nailed the jacket, the helmet is perfect...everything is just fantastic.  I couldn't be happier.  Thanks so much.

  Peyre
Thank you so much Peyre and I'm glad to see Lothar... er, Douglas, is ready for sortie over the skies of South Carolina!